Pursuant to the provisions of Section 35(1)(a)(v) and Section 24(4) of the Universities Act, 2012 (Revised 2020), the National Defence University-Kenya advertised various vacancies through print media and the Ministry of Defence website between 22nd February, 2022 to 6th March, 2022.
Upon conclusion of the shortlisting exercise, the University publishes the names of the shortlisted applicants for information and invitation for interviews at the National Defence University–Kenya, Lanet, Nakuru County on the dates and time indicated against their names.
The applicants should bring originals of the following documents:
(i) National identity card;
(ii) Academic and professional certificates and transcripts;
(iii) Any other supporting documents and                 testimonials; and
(iv) Current clearances from the following bodies:
(a) Kenya Revenue Authority;
(b) Higher Education Loans Board;
(c) Credit Reference Bureau;
(d) Directorate of Criminal Investigations (Police Clearance Certificate);
(v) Self-Declaration Form duly stamped by the Ethics and Anti-Corruption Commission; and
(vi) Recommendation from relevant professional bodies and associations (where applicable).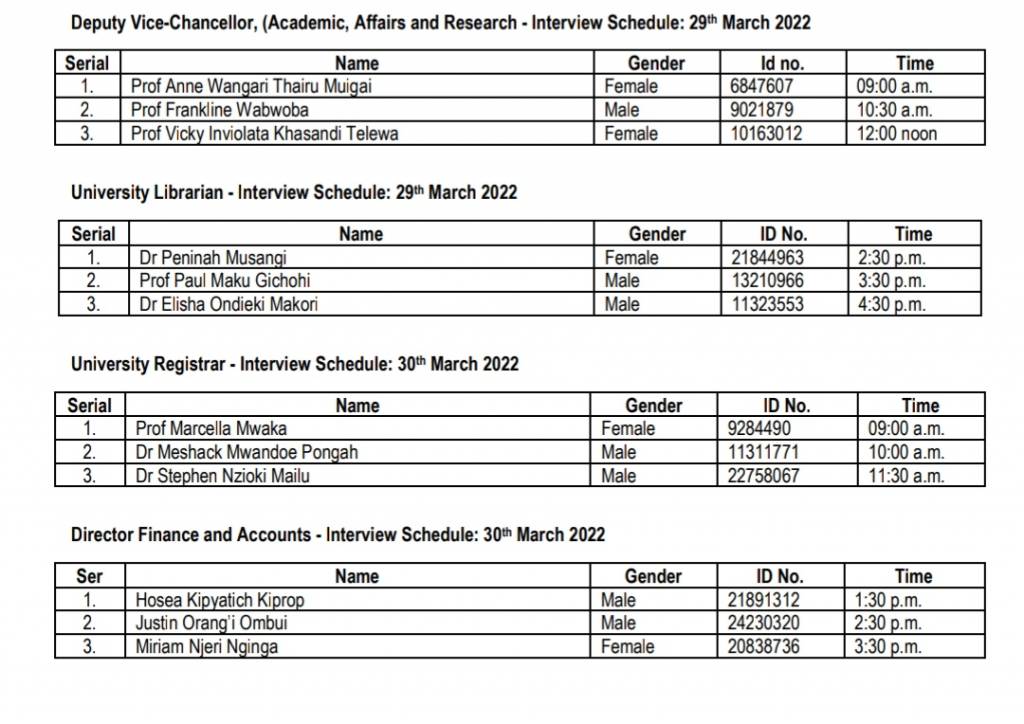 PUBLIC PARTICIPATION
Members of the public are invited to avail any credible information of interest relating to any of the shortlisted applicants (through sworn affidavits) to the Secretary, National Defence University-Kenya or online through:                      ndu-kenya@mod.go.ke so as to be received on or before 25th March, 2022.
Secretary
National Defence University-Kenya