President Uhuru Kenyatta wore full military fatigue as he welcomed King Abdullah II of Jordan who arrived in the country on Monday for a visit focusing on security issues.
The King was received at the Jomo Kenyatta International Airport by President Uhuru Kenyatta.
After the arrival ceremonies, the two leaders proceeded to Embakasi to witness joint military exercises conducted by the Kenya Defence Forces (KDF) and the Royal Jordanian Armed Forces at the Embakasi Garrison.
King Abdullah is on his first official visit to Kenya since ascending to the throne.
The Exercise Swift Eagle, conducted at the Embakasi Garrison, simulated threats posed by terrorism and how to destroy them.
Two elite units from KDF – Special Forces and Ranger Regiment – were joined by the Quick Reaction Force from the Jordanian military in displaying tactics to deal with conventional and asymmetric war threats.
President Kenyatta said the joint exercises were aimed at creating and improving inter-operability between Kenyan and Jordanian forces.
"I am convinced that now our forces are ready for real problems in either of our countries, or elsewhere, should the need arise to tackle either conventional or asymmetric threats," said President Kenyatta.
The Head of State thanked Jordan for its military cooperation with Kenya that has seen more than 60 Kenya Air Force officers trained by the Jordanian military. Another 38 will have trained by February next year.
The trainings are part of a mutual defence cooperation agreement between Kenya and the Jordanian Kingdom.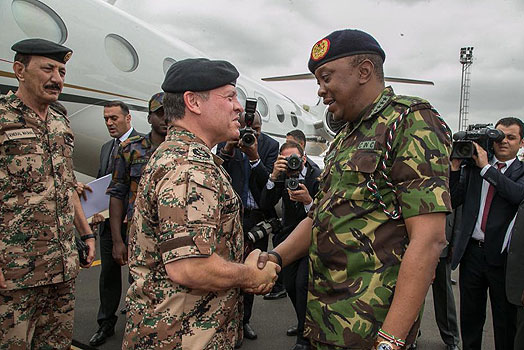 "I would also like to register our appreciation of the assistance the Hashemite Kingdom of Jordan has extended to our Defence Forces, enhancing our Air Force and Air Crew capacity through a training program covering diverse skills," said the President while speaking at the end of the exercise which has been running for the last eight days.
On his part, King Abdullah said Jordan stands shoulder to shoulder with Kenya in confronting the threats of terrorism.
"We stand shoulder to shoulder with you against the threats of today. It is a threat we did not ask for but are willing to fight," said the King.
He said the aim of the joint military exercise was to achieve greater coordination between Kenyan and Jordanian forces, an aim that has been achieved.
"We have started a new chapter in our partnership of friendship. It is a new beginning for Kenya and Jordan," said King Abdullah.