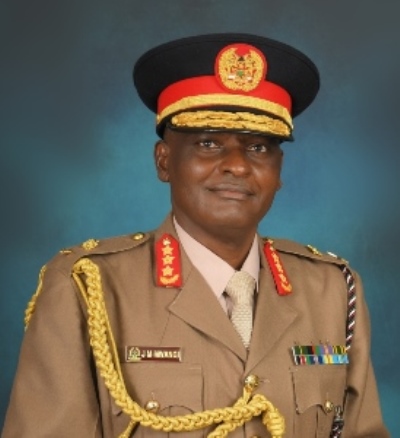 LIEUTENANT GENERAL JONAH M MWANGI MGH CBS 'AWC' (USA) 'PSC' (K)
VICE CHIEF OF THE DEFENCE FORCES
On 28 April 2023, His Excellency Dr. William Ruto, President of the Republic of Kenya, and Commander-in-Chief of the Defence Forces, pursuant to Section 9 (2), (a) of the Kenya Defence Forces Act, appointed Lieutenant General Jonah Mwangi as the Vice Chief of the Defence Forces (VCDF). Subsequently, his swearing in ceremony was held on Saturday, 29th April 2023, at State House, Nairobi.
Prior to this appointment, Lieutenant General Jonah M Mwangi was the Vice-Chancellor, National Defence University-Kenya from 23 July 2021. He was enlisted into the Kenya Defence Forces as an Officer Cadet on 14 May 1982 and commissioned as a Second Lieutenant on 14 April 1983. Upon commissioning, he was posted to a unit of the Kenya Army Artillery as a Command Post Officer. Thereafter, he served in many regimental capacities among them, Signal Officer, Battery Captain, Unit Adjutant, Battery Commander, and ultimately became a Commanding Officer in 2008.
He has held various appointments that span command, staff and instructional duties including Assistant Chief of the Defence Forces responsible for Operations, Plans, Doctrine and Training at the Kenya Defence Forces Headquarters, Chief of Operations at the Headquarters Kenya Army, Commander Artillery Brigade, Senior Instructor at the Officer Cadets School, Kenya Military Academy and a Brigade Major at the Headquarters Artillery Brigade.
In addition, he has served as a Military Assistant initially to the Army Commander and subsequently a Military Assistant to the Minister for National Security, Staff Officer Grade 1 Doctrine and Training at the Headquarters, Kenya Army, and Chief of Staff at Kenya's Eastern Command.
Lt Gen Mwangi has attended diverse local and overseas courses related to leadership, command and management. These include but are not limited to Battery Commander, Armour Squadron Commander, Senior Command Course, Grade 1 Staff, Senior Leadership Course in the United Kingdom and Diploma in National Security awarded by the United States Army War College. He has also earned a Bachelor's Degree in Peace and Conflict Studies from Africa Nazarene University.
In the field of peacekeeping, he served as an Operations Staff Officer in the United Nations Transition Assistance Group (UNTAG), Force Headquarters in Namibia and Force Training Officer in the United Nations Mission in Chad and Central Africa Republic (MINURCAT).
Lt. Gen Jonah Mwangi is married and blessed with three adult children.