KDF Day Celebration
October 14, 2019

-

October 15, 2019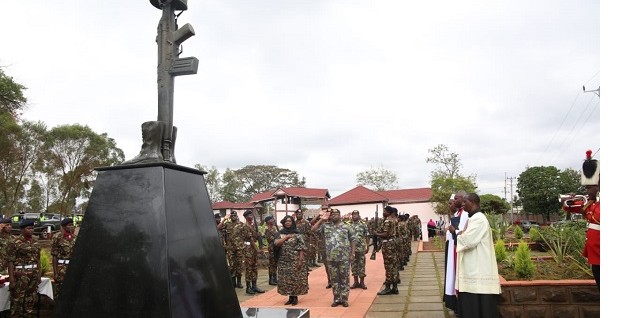 Cabinet Secretary for Defence Ambassador Raychelle Omamo and Senior Military Officers salute at long reveille during Kenya Defence Forces(KDF) Day celebrations held at Langata Barracks on 14th October 2019.
The Cabinet Secretary for Defence Ambassador Raychelle Omamo led the Kenya Defence Forces (KDF) in marking the eighth KDF Day celebrations at Langata Barracks on Monday ,14 October 2019.
KDF Day is observed annually to Commemorate and to celebrate the acts of valor and gallantry by KDF heroes and heroines. This special day has been observed since October 2012 following the launch of Operation Linda Nchi in October 2011. This year's theme is "Towards Sustainable Welfare for the Kenya Defence Forces Fraternity Welfare."
"KDF Day is the most important day in the KDF calendar. This is reflected on their idea of duty. Soldiers are patriotic and it is for us to thank them for their sacrifice," said the CS.
She also emphasized on the importance of welfare to a soldier, that while they perform their daily duties they need support from KDF command, their families and the nation at large. She thanked those working in rehabilitation and welfare centers for striving to meet the needs of every member of the KDF fraternity.
The Chief of Defence Forces General Samson Mwathethe said that the KDF command has put in place robust structures to address all welfare aspects that the troops will require while executing their roles. Notably is the construction of the ultra –modern rehabilitation center at Lang'ata Barracks that will help in treatment of soldiers who suffer from combat stress.
In the event, soldiers who performed exceptionally well in their duties were recognized and were presented with awards in recognition of their remarkable work. They included Lieutenant Colonel (Dr.) Yator who was recognized for his contribution in management of combat stress and mental health of service personnel, Lieutenant Colonel Muvonde who was recognized for his efforts in the identification, treatment rehabilitation and return to duty of service members affected by psychological trauma, Senior Sergeant Obare who has displayed exemplary devotion to service duty by being an accident free driver for over ten years among others.
This year's KDF Day celebrations had several activities that included unveiling of the monument in remembrance of the fallen soldiers by the CS, the laying of wreaths and the official opening of the Welfare Center of Lang'ata Barracks.
Various welfare departments within KDF also had display stands where they showcased on their various roles and how they can use the offices for their benefit.
Others who attended the celebrations included Principal Secretary Ministry of Defence Dr. Ibrahim Mohamed, Vice Chief of Defence Forces Lieutenant General Robert Kibochi, Commander Kenya Army Lieutenant General Walter Koipaton, Commander Kenya Air Force Major General Francis Ogolla and Commander Kenya Navy Major General Levi Mghalu, Retired Generals, Inspector General of Police Hillary Mutyambai, Defence Attachés, Senior Officers, Officers, Service Men and their families among other guests.