Defence Forces Constabularies Pass Out Parade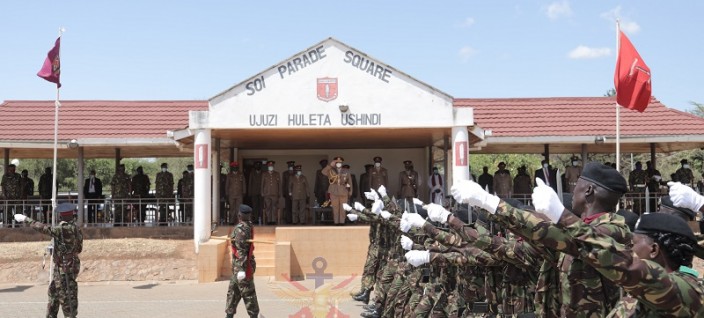 The General Officer Commanding Western Command (GOC WestCom), Major General Joseph Kivunzi, today presided over the Defence Forces Constabulary Pass Out Parade at the School of Infantry in Isiolo.
The Kenya Army Band and an elaborate march past drill in both slow and quick time by the recruits enlivened the ceremony.
Thereafter the recruits took an oath of allegiance to faithfully and diligently serve the Republic of Kenya and defend it against external aggression.
During the ceremony, the GOC presented awards to recruits who excelled in various fields during training. The Best Platoon Commander was awarded to Chief Instructor Salimu Mwamaneno, Best Recruit All Round was Rachel Marion Khakasa and Best Recruit Drill was David Mbungiri. Abraham Kimtai and Mariam Ngina were awarded the Best Recruit in Academics and the Best Recruit in Marksmanship respectively.
In his speech, Major General Kivunzi reminded the recruits that the Pass Out Parade marks the beginning of the demanding and challenging career that requires a lot of sacrifice from them.
He further highlighted that the recruits will take up responsibilities in serving the nation thus addressing homeland security challenges. He also urged the recruits to use the knowledge and skills they acquired during training in executing various tasks and duties in their areas of deployment.
The GOC reminded the recruits to adhere to KDF core values which have made KDF an exemplary symbol of nationhood and unity.
The event was attended by Commandant School of Infantry Brigadier Joackim Mwamburi and Commander Kahawa Garrison Brigadier James Githaga among other senior KDF officers.