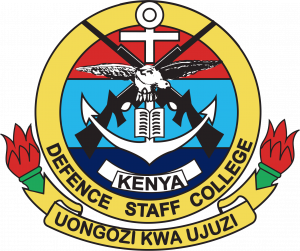 The Defence Staff College trains mid-level officers in defence and strategy at the operational level. The college develops professional knowledge, skills and understanding of middle-level officers and prepares them for advanced or complex responsibilities in command and staff. Students are taken through military and academic modules that prepare them to have the capacity to be adaptable to navigate the increasingly evolving, complex and ambiguous security environment.
Upon completing the academic module, the participants are awarded a Postgraduate Diploma or Diploma certificate in Defence and Strategic Studies, depending on their entry levels
The academic module exposes the officers to national, regional and international security dynamics that impact Kenya's national interests. To this end, NDU-K will provide the officers with the academic platform to undertake studies and research to equip course participants with the intellectual attributes necessary for understanding, critically analysing and providing effective solutions to contemporary security challenges.
The University will endeavour to give the necessary support to the college to help the Kenya Defence Forces produce well-trained graduates who are mission ready and serve in various capacities in Command and Staff responsibilities.